Hyper-realistic art never fails to amaze us. Never mind that every other person in the developed world owns a DSLR or that today's technology allows us to re-create just about anything on a computer screen.
There's just something about an artist's ability to capture reality with a paintbrush that always leaves us with a sense of awe and wonder.
It's something Hikaru Cho, better known as Chooo-san, didn't quite understand until her hyper-realistic body art paintings gained popularity on the web.
"I used to think there was no point in analogue drawings because we can just use Photoshop or whatever," she tells Contented in an email interview. "However, through this body paint making process and seeing everyone's reaction, I discovered a certain power that analogue works have that moves people's hearts."
As if creating hyper-realistic art on paper or canvas isn't difficult enough, Hikaru prefers to paint on human bodies – for, oddly enough, practical reasons.
"Somehow I paint well on human (and something other than flat mediums) than on paper," she shares. But also, painting on human bodies allows her to "create something that even I haven't seen before."
A woman whose back has been zipped open to reveal another zip; a forearm fitted with a pair of batteries; a man whose large stomach is quite literally bursting at the seams; and a foot that has been laced up like a pair of sneakers – these are just a fraction of some of her works, and her earlier ones at that.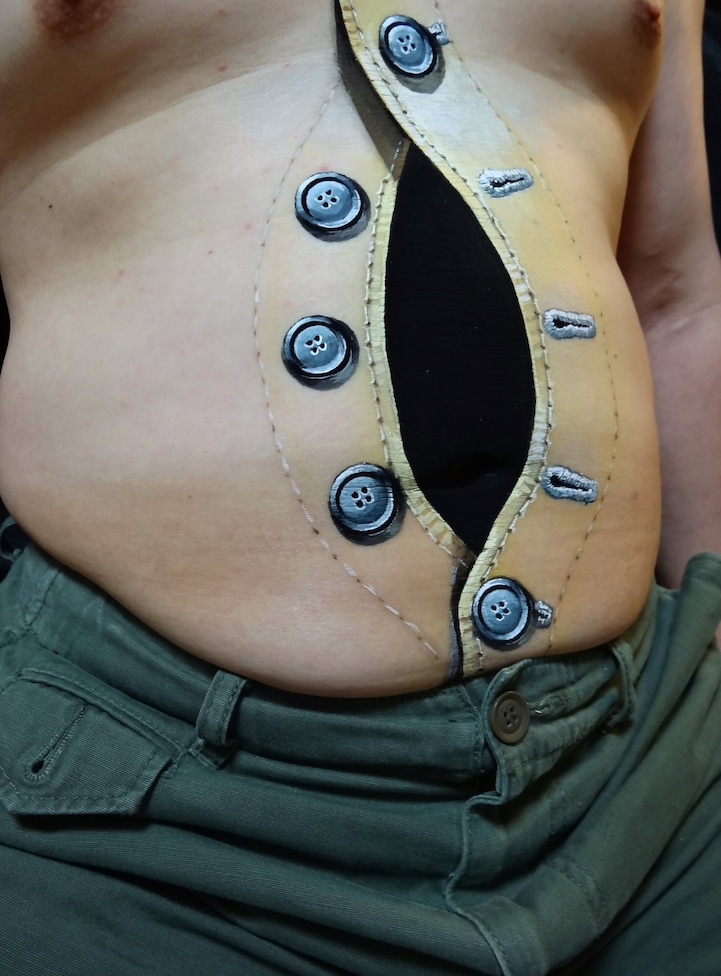 Just your average art student prepping for an examination back in 2012, Hikaru's hidden talent for realistic body art was discovered pretty much by accident.
Searching for some inspiration while preparing for a university examination, she started doodling on her hand.
"I started painting on my hand because I was too lazy to get a new piece of paper," she offers. "Then I posted my painted hand on Twitter and it got a positive reaction, so I became interested."
So she started painting more on her hand or on people's faces, mostly just for fun.
"Around this time, I didn't even use a proper camera – I used a cellphone camera," she remembers. "Then I got more interested in making these sorts of images so I started using a proper camera and started thinking of some kind of concept for each painting."
For instance, in her work "Undigital Alternation", the 22-year-old artist addresses the concept of human abilities without the help of Photoshop.
"I wanted to show what human, analogue painting, can do using no Photoshop."Hikaru Cho
One common thread throughout her works is a unifying theme of metamorphosis – not that it's intentional. It's just something she notices has emerged in her paintings over the past three years.
"I recently thought about it and concluded that all my works are about making the usual unusual," she ponders. "I think the hidden concept of all my works is challenging people's sense of values by transforming familiar objects into something else – although I'm not sure yet."
Over the years, Hikaru's body art paintings has certainly evolved, using visual tricks such as black backdrops to make a part of the human body disappear.
You can see this technique in her series of works commissioned by Samsung for the launch of the Samsung GALAXY S6.
She took inspiration from the curved edge of the phone, the wireless charging capabilities and the swiping movements everyone uses with their touch-screens these days.
"We use smartphones daily that we don't think about how amazing and interesting it is and how it's entertaining our lives," she offers. "So I translated the phone's shape onto human faces, so it becomes more obvious."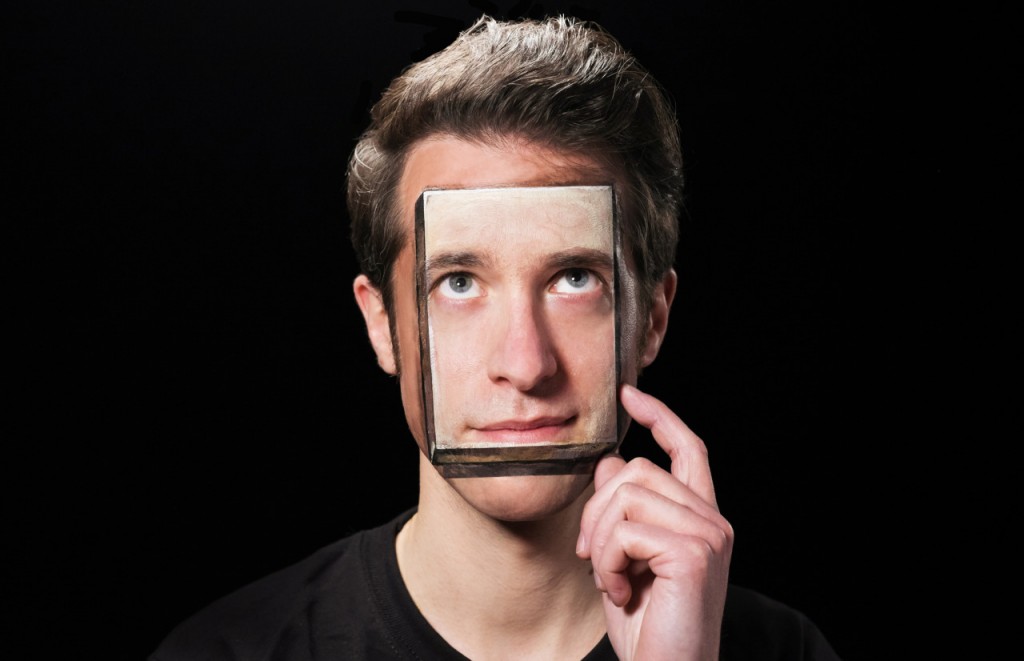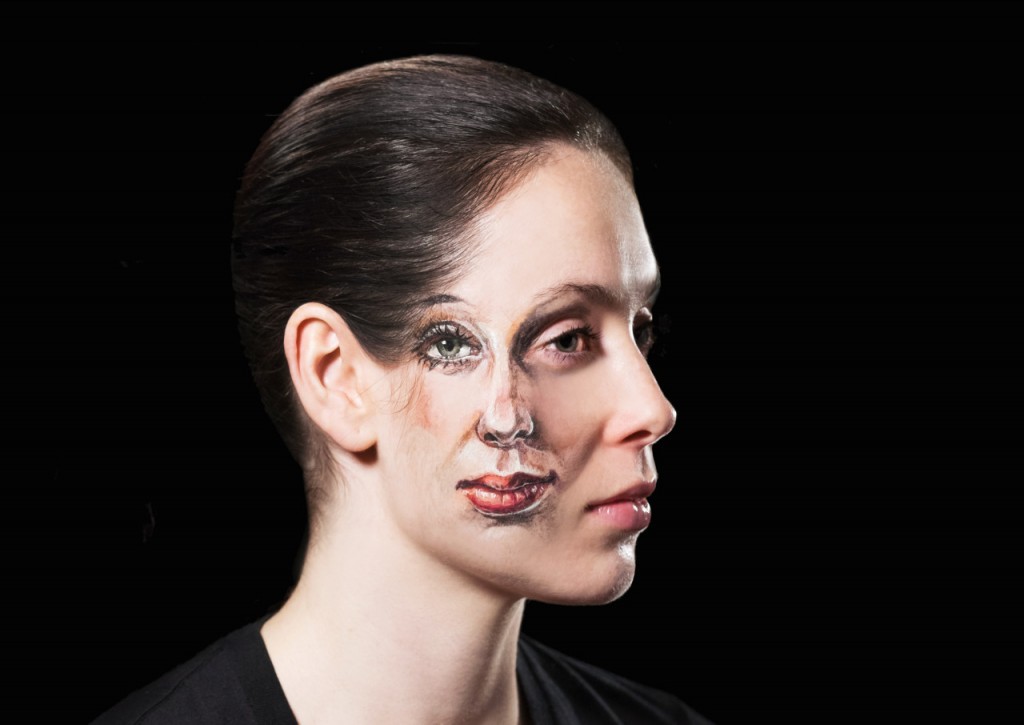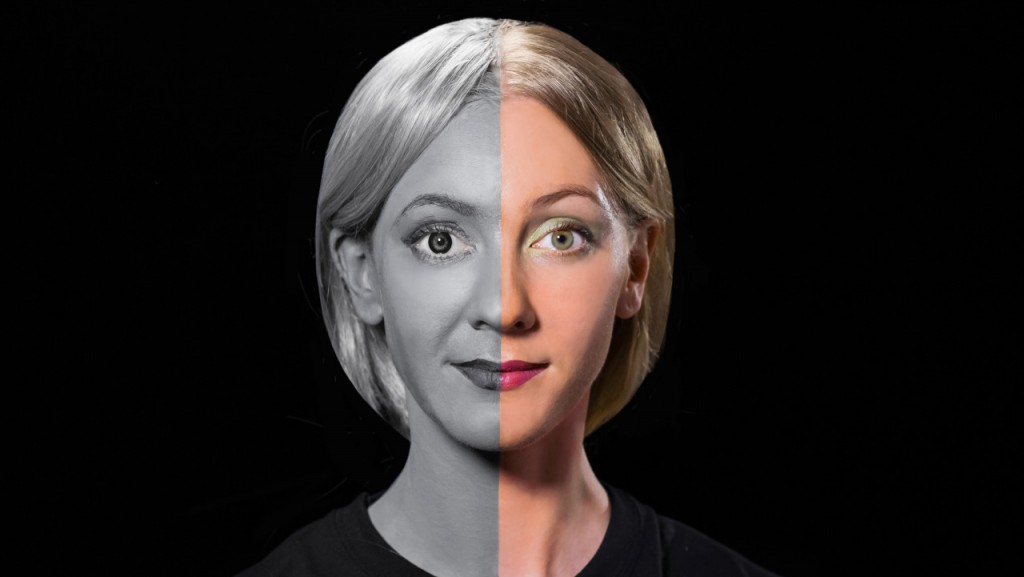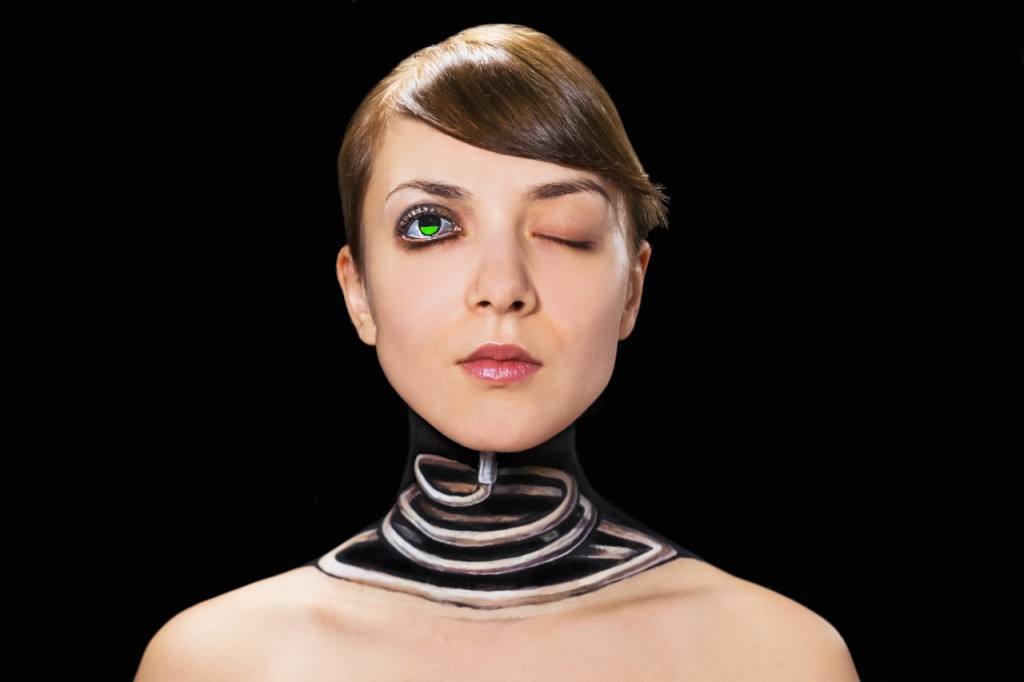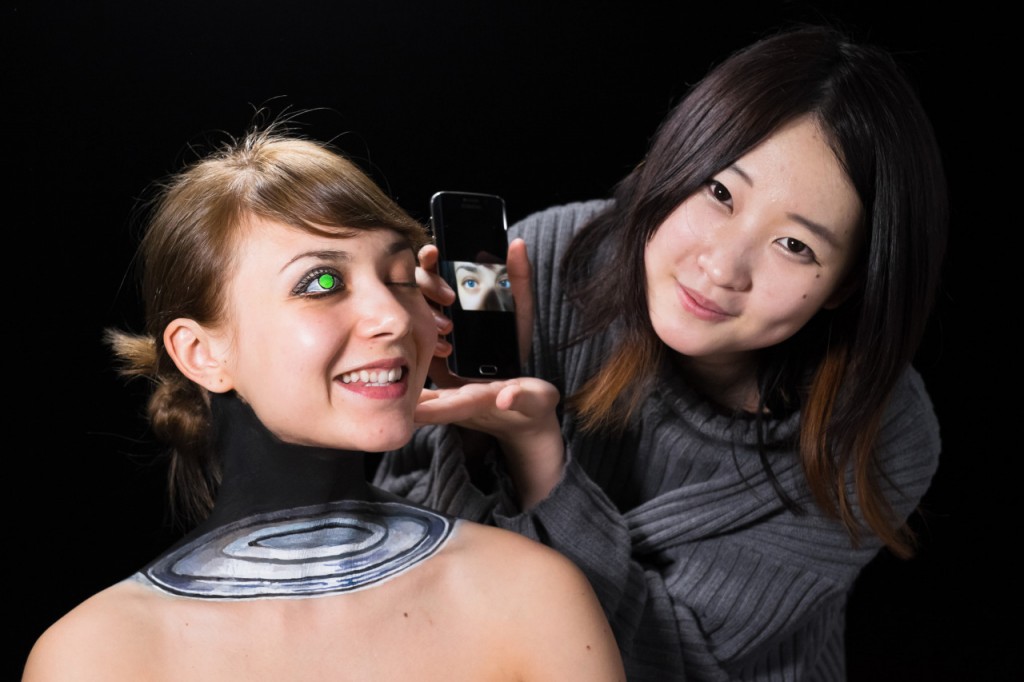 Arguably her most recognisable work from the series, "Swipe" is a departure from her usual works, in that she painted an extra pair of eyes on her face instead of on a model's.
"I actually didn't think it would be chosen as a public visual. I'm a little embarrassed seeing my face as a public visual, and next to all the models, but I like the picture itself," she says.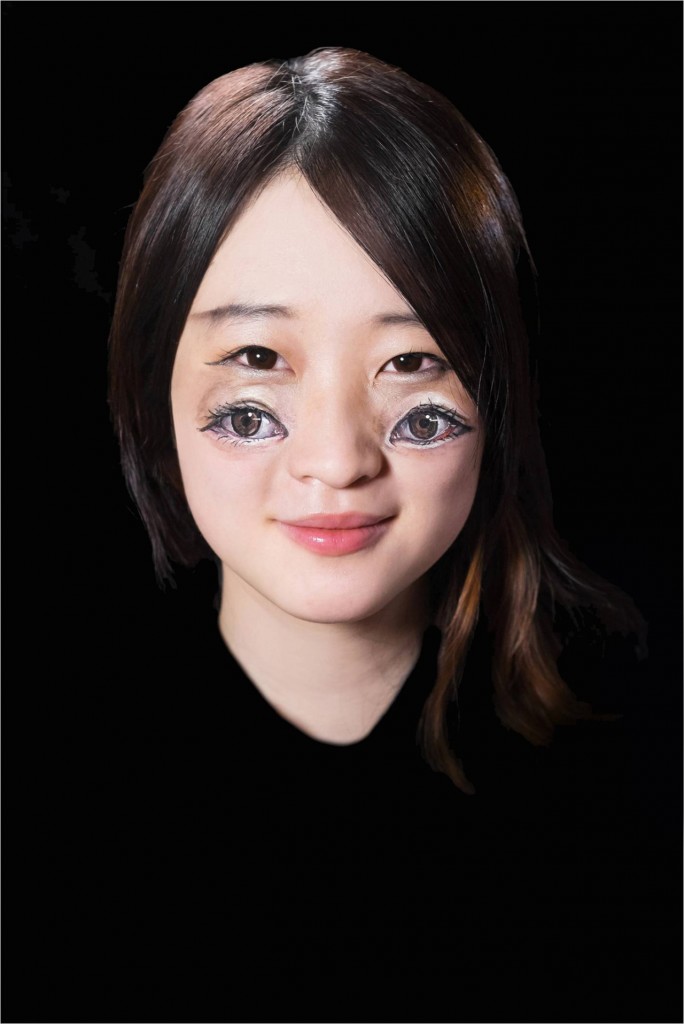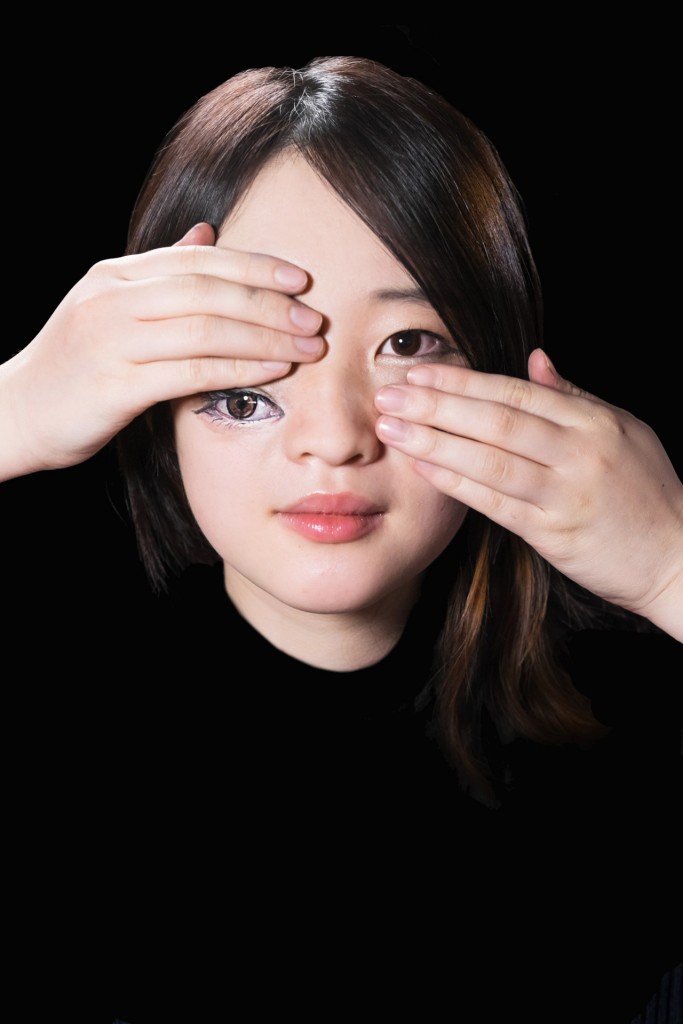 Funny story, the idea was originally rejected for the Samsung project, and she decided to use it on a TV show instead.
"The reason I painted eyes was because it was one of the first things I ever painted and have been painting throughout my career. So it became sort of my signature painting. For some reason I never get bored of painting eyes."Hikaru Cho
Her agent and photographer Jim Marks loved it so much that they decided to push it through as the main visual of the projects – a wise decision if there ever was one.
Naturally, painting on her own face came with its challenges.
"I had to use three mirrors," she shares. "But in some ways, it was easier since I didn't have to worry about the model's discomfort. I could concentrate solely on my paintings."
Watch her in action in the video below:
Images via My Modern Met and the artist's website.