There's always the cheap option. "You know, in times of financial prudence, $10 will give you the cut and slick haircut you need," they say, "and you can be back to catch the 9:20pm movie at The Cathay."
So I hopped onto a train on the red line, stopped somewhere in the barracks of Plaza Singapura and picked the best damn walk-in $10 salon I could find. Five minutes on and they've grabbed a whole chunk of my transcendent youth — these rebellious strands of pure 21st century grade black — and chopped it off, no questions asked.
But, I'm curious – if this is what $10 gets me, what would $5 fetch?
Situated along Little India's Dunlop Street and perilously behind loud-mouthed magazine vendors, is an empty space. Kollywood (India's Tamil cinema) soundtracks play loudly from the speakers of a shop selling CDs and showing reruns of classic films. A little faith and a few steps forward past the magazine stand and you'll fall into the most unassuming hole in the wall – a platform 9 3/4 of sorts for anyone lost on the street. It's Sham Hair Salon, a barbershop owned and operated by Steven John.
For a hole-in-the-wall operation off Little India, John argues that 107 Dunlop Street – as he fondly refers to the shop – is a space that "always felt like home". He did not reveal how he came to own the place, but says he "didn't have to pay a deposit". That made him happy. John claims his training dates as far back as 1997 in Malaysia under a personal trainer from London, and he feels 107 is where he truly honed his skillset.
This resonates heavily with the variety of peculiar objects that adorn his shop and that continue to inspire him. Bits and pieces he has collected here and there, and which he hoards in his tiny shop. There are so many trinkets and toys and things on the ledge of his mirrors that there's hardly any space to rest a comb or a pair of scissors.
"Movies are a big inspiration in my shop. Foreigners come in here and trust me with their haircuts because they know I watch good movies."Steven John of Sham Hair Salon
On the way into Sham, you'd be silly to miss that kaleidoscopic and hypnotic swirl of colour on a signboard at the entrance. You'll cross your eyes at the glaring 'W-O-R-K S-M-A-R-T' placard and pictures of cholo and B-boy hairstyles on offer. You'll squeeze and shapeshift your way through an array of folkloric paraphernalia and Chinese ornaments, but be damned if you miss his display of faded Bollywood and Hollywood posters on the wall, all converging towards a stain-speckled mirror. A steadfast Mr John stands smack in the middle ready to greet you.
"Reservoir Dogs is my favourite movie," Mr John confirms, leaning back on one of two battered barber shop chairs. A third "visitors" lounge chair seats two uprooted barber poles.
"Taxi Driver is great too. Movies are a big inspiration in my shop. Foreigners come in here and trust me with their haircuts because they know I watch good movies," adds the Singaporean.
It seems a brilliant strategy at first, earning John the adoration of both the migrant workers and tourists from the backpacker hostels in the area looking for a neat, stylised cut."
What makes Mr John a head honcho of his district are the styles he has on offer, like "The Flattop" and "The Pompadour" which are advertised.
"How about any haircut you can imagine?" he asks calmly.
This is no gimmick. When I ask John to recollect some of his most requested cuts, he shoots off with names like perm style, short cut, army style, high slope, down slope, all the while pacing around his shop to find a USB flash drive. That master device contains every image of every hairstyle imaginable, swiftly updated with every new client request. It's his resume, reference look book and trusted learning tool.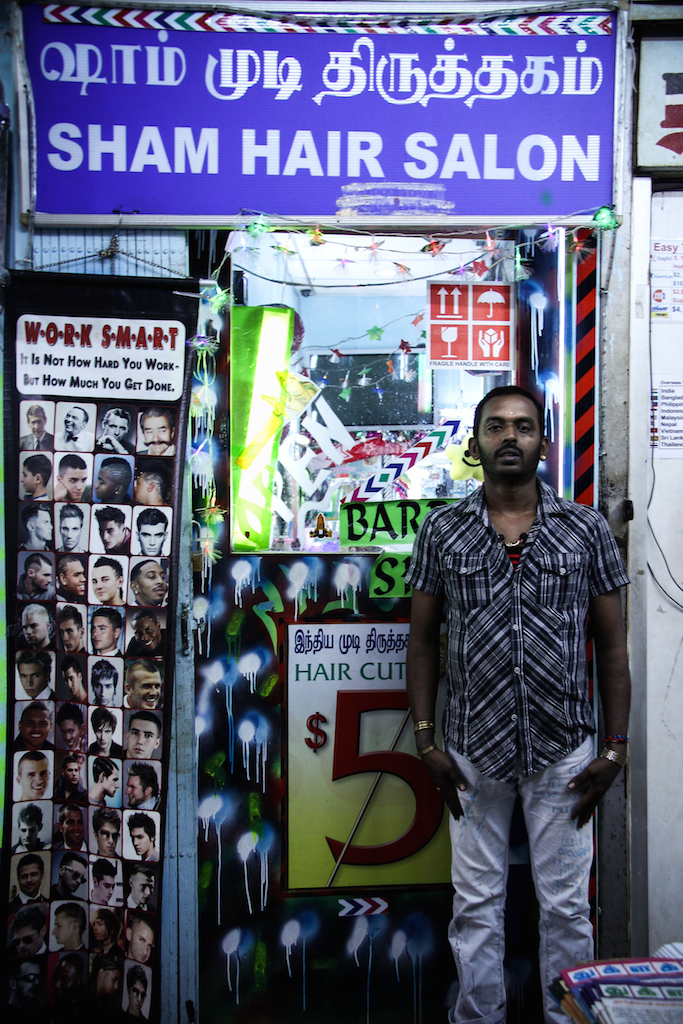 Within just one and a half years of Sham Hair Salon being in his ownership, John and his flash drive have serviced customers with the dexterity and calmness that, he claims, "once put a six-month-old baby to sleep".
Twenty minutes on into your haircut, your eyes strain past his trinkets and amulets, through the constellation of stains encrusted onto the mirror, and Mr John will have you leave his shop without an inch fouled from the cut you asked for.
On top of that, a powerful neck and head massage to end the experience.
But you'll have to wait in line.
"My customers' seats only accommodate two people, which means I only get to serve my regular customers. Everyday, about fifty to hundred people stop by," John claims, though later clarifying that it includes people who pop their head in for a look-see.
"Maybe, with the press you give me, I'll be able to train someone to handle that extra chair in the shop and everyone will be able to get the haircut they truly want."
But for style-conscious and self-aware modern males used to haircuts that start their way up from $40, make no mistake that Sham is a no-frills operation and may not make the cut for the spoilt generation. Mr John little joint may be claustrophobic and messy at worst, but at best, he's an honest barber doing an honest day's work delivering quality cuts in a classic joint for real men.