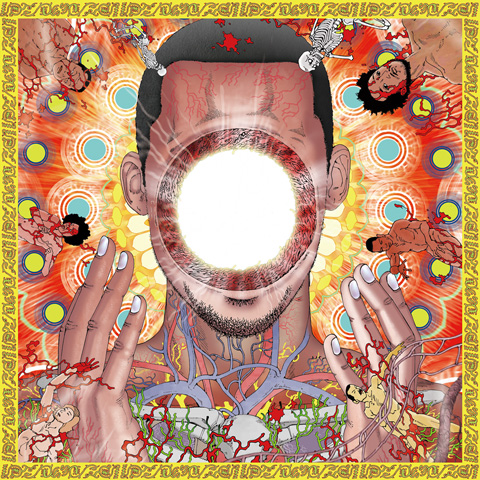 The preview of Flying Lotus' new album looks good.
That's right, homes, looks good. Off the cuff, at least, because it's latest trailer preview teases our aural senses with that FlyLo sound and blows our mind with original artwork by Japanese comic book artist Shintaro Kago.
But hey, it sounds like it should sound – superb, with a strong chance of insane jazzilistic mind-altering rhythms and beats.
We can't wait for this to drop.
"The album isn't about the end, it's really the beginning. It's a celebration of the next experience. It's the transition and the confusion. It's not 'hey you're dead.' It's 'hey you're dead!'" Flying Lotus
According to Warp, the new album, titled You're Dead!, features an expanded universe of Lotus' supporting cast which will include, in order of appearance, Herbie Hancock, Kendrick Lamar, Captain Murphy, Snoop Dogg, Angel Deradoorian, Thundercat, Niki Randa, alongside Kago's artwork.
Things are looking good, as good as Captain Murphy's Duality album music video (NSFW).
Now, as the FlyLo instructs, enter "a shamanic pilgrimage into the psychedelic unknown of the infinite afterlife". (Warning, contains many instances of flashing images.)
You're Dead! is released on 6th October 2014 (7th October in North America). Formats include CD, Double Gatefold Vinyl, Digital and a Special Edition 4 x 180g Vinyl box set, which includes You're Dead! Instrumentals on an initial pressing of 2,000 copies worldwide.
Pre-order at iTunes.