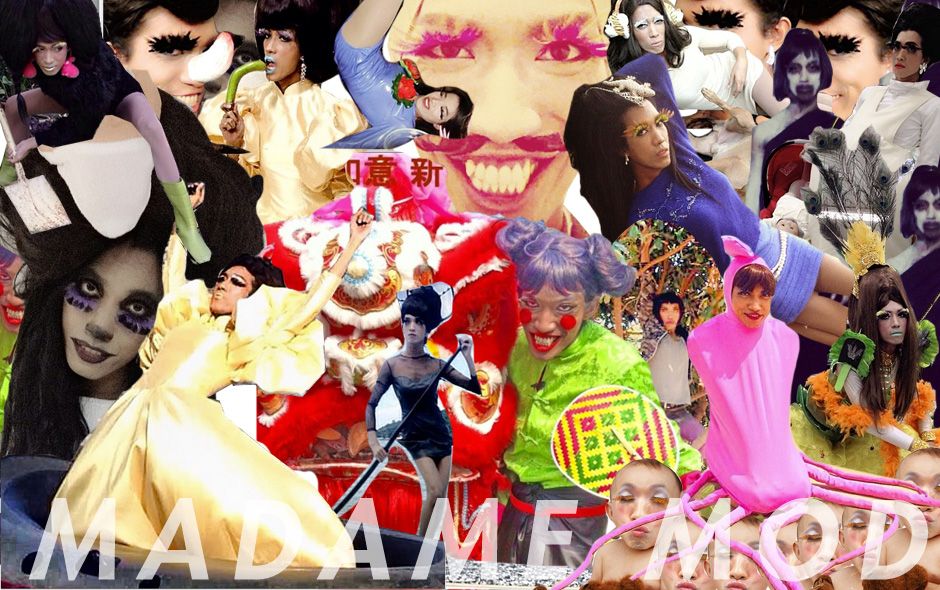 Madame Mod never fails to make the ordinary extraordinary, her more than 600,000 Instagram followers can attest to.
The flamboyant host and actress signed to GMM Grammy is known for over-the-top costumes, colorful falsies and giant butterfly wings, and, more importantly, her sublimely weird poses that always amaze, delight and confuse.
Coconuts collected some of her weirdest, most WTF moments for your enjoyment and education to puzzle over who she really is and why the heck she does this.
No, that's not a rare nonapod, that's actually Madame in camouflage!

"I went to the beach, but no one could see me because I blended into nature."
Madame celebrates a traditional Chinese New Year by thinking about insane clown murder.

"Just one look and you know that I'm Chinese."
Madame obviously is an able sailor, as she demonstrates here.

"I'll touch the sky even if fate doesn't permit."
Whatever you put on YOUR head, Madame is not impressed.

"Dying from Thailand's heat. Without this hat, I'd have died."
Feeling wild, she sometimes experiments with cross-dressing.

"Men can dress fabulously nowadays."
Someone said she'd look good in a baby-doll. Maybe she misunderstood.

"Just an everyday makeup look, really."
A woman's gotta eat.

"Wearing a normal fisherman's get-up to find some aquatic plants. Some farang saw me and screamed."
Staying on top of the latest health-food trends.

"Just an ordinary veggie girl."
Just like you, MM is just a normal girl doin' normal things, normally.

"Wearing a casual outfit to do some grocery shopping."
Despite her OTT look, Madame Mod is actually much loved and respected among Thai youngsters.
Madame Mod had a Communications degree from Chulalongkorn University and, after graduation, started her career as an English teacher. But her teaching job didn't last long as she realised that teaching wasn't her calling.
Soon after, Madame Mod landed a job as the host for Pasa Plaza, a language comedy show on Play Channel targeting teenagers and young adults. She became famous overnight due to her unique teaching method in which she demonstrates how to use a word in a theatrically funny way.
Madame Mod is also a trendsetter for buzzwords currently used among Thai teens.
For more photos of Madame Mod, follow her on Instagram here.
We personally went to check out her Instagram page. Here's our top few:

Looks like Kill Bill stole Paris Hilton's pet dog and scared the shit out of Asian John Lennon's little mean girls.

Erm, Tonto? Is that you?

The force is ? in this one.

We would totally watch this. Falsies Cullen, Jacob bowlhead Black and Bella Swan.

Besides Scooby, anyone else notice how high her head stretches? Adele would be proud.

Do not hit me baby one more time.