If the calmness on Daisuke Onoe's face is anything to go by, no one would ever know that the street performer is stressing out as he looks for a spot in the heart of Singapore's Chinatown to perform.
The 31 year old, who goes by the "street name" of Jonasun, has only a few hours of sunlight left to perform and will have about two hours worth of light to earn his usual Sunday keep.
Maybe we shouldn't have had such a long lunch.
"Right now, I can't find a good spot. The sunlight here is not right and there is another local also wanting to use the space. I have to be respectful. I'm a foreigner," says the busker, laughing, as he lugs around his nearly 10kg suitcase that contains all his performance materials.
The Japanese citizen from Kobe, who has been street performing since 2007, will be going through his entertaining repertoire of beautiful object manipulation, the highlight being contact juggling.
Jonasun will balance the more-than-2kg ball on his fingers, roll it along his shoulders and arms, and balance it on his finger tips making it seem as if it were floating in the air and making you feel as if you were tripping balls.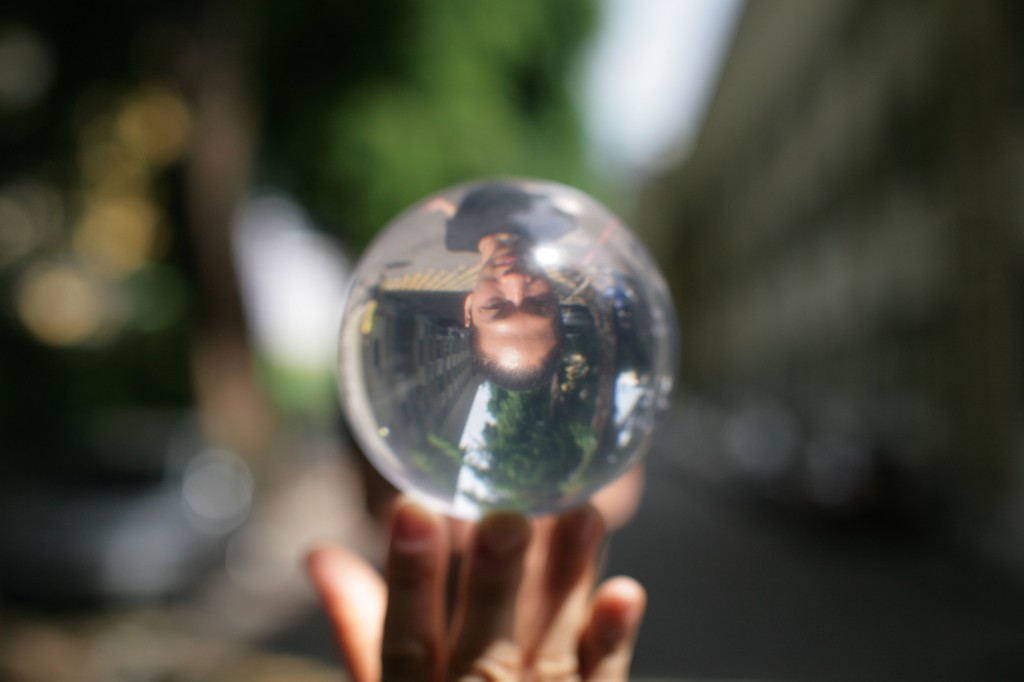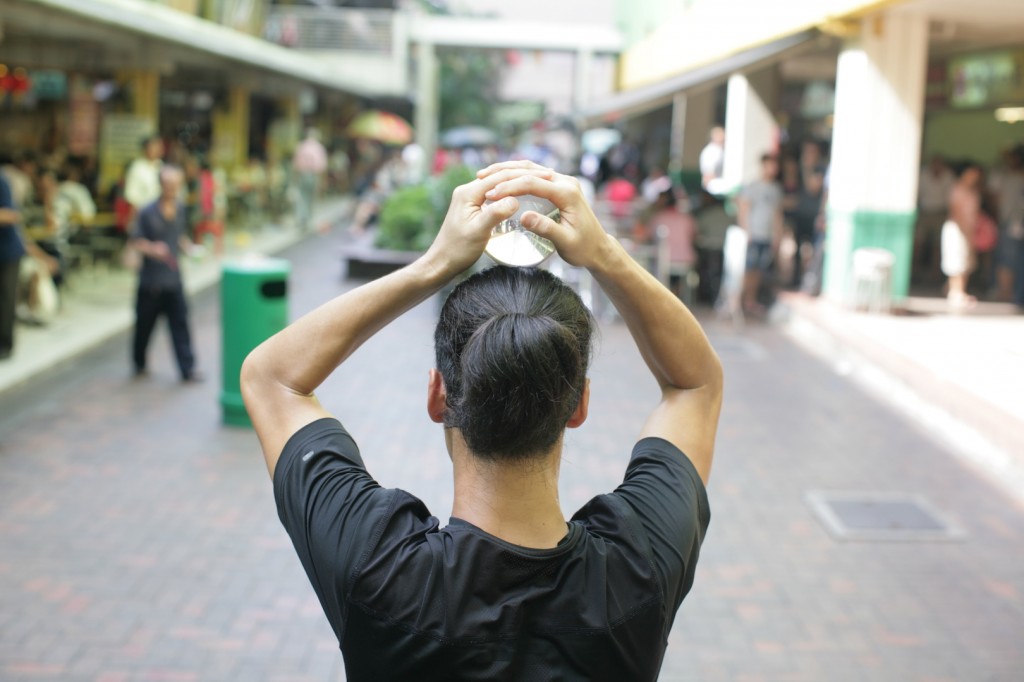 But his beautiful performances are sometimes cut short by snags and circumstances that usually plague a living that's made on the streets in countries around the world – stolen wallets, drunk Australian thugs and bitter Singaporeans, to name a few.
So his caution to perform near the vicinity of other street performers, especially in Singapore, is understandable.
"I was arrested once in Singapore," Jonasun says. "I was in Tampines and I think some old men who usually use the space to sell things asked me to go away. I respected them, so I did.
"Then, I think they pranked me when they said I could use the space to perform for the audience. Just as I was getting started into my first show, the cops came and took me in for not having a permit to perform. I think the men there were territorial and called the cops to teach me a lesson."
He got away with a warning but spending hours in a police station was not exactly a happy memory for the relaxed and peaceful performer.
Or the time he had his bag containing his money, passport, driver's licence and other travel essentials stolen three days before he was to leave for a visa run from Vienna, Austria.
"I only had 100 euros with me. I had to pay for the accommodation, a new passport and a new ticket.
"I never performed so hard in my life and somehow, I managed to make 650 euros in 48 hours and got everything sorted," he says of that fortunate moment of generosity from passersby.
It's in contrast to an experience in Sydney when the hyper-friendly and enthusiastic performer was pushed and shoved aside in the middle of his street performance by drunken thugs.
"I think they thought that whatever I was doing was dangerous. It was a terrible experience, even my friends and some passersby who tried to help got beaten up."
Like the dreadlocked, free-spirited performers who travel Asia and live a hippy lifestyle in Goa, Jonasun typifies the bohemian in pursuit of touching hearts and creating happiness through performances.
"I've always liked music like punk and rock, so when I was younger, I went to music school for a year and I had a rock band influenced by Jimi Hendrix. But school was too expensive, so I found work in a bar and later on in a factory. But life got really boring and I decided to get out of my hometown to travel."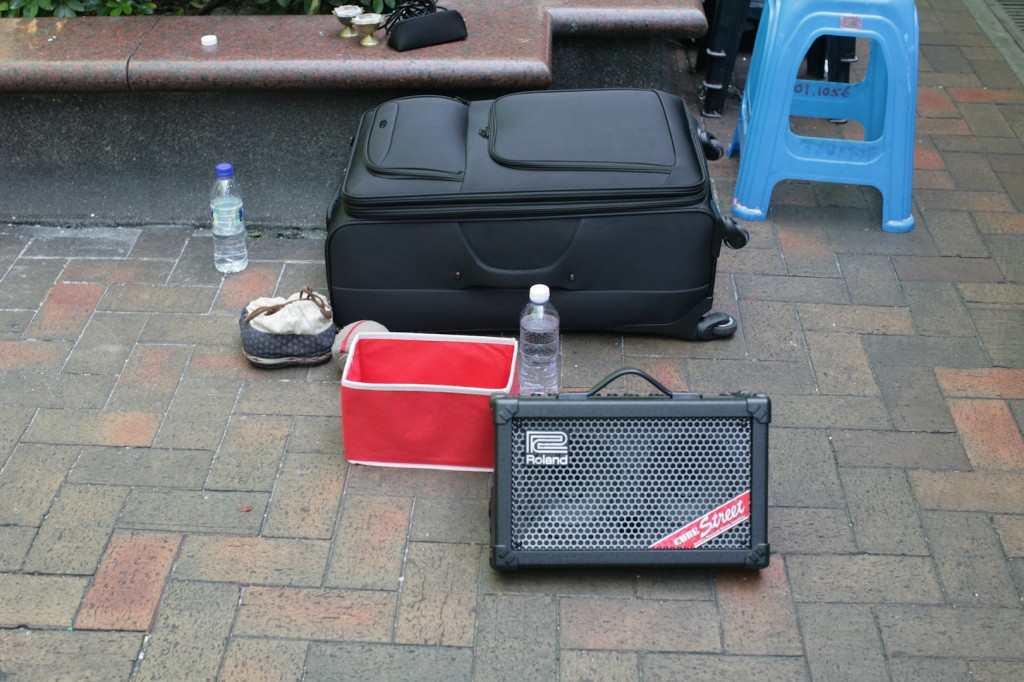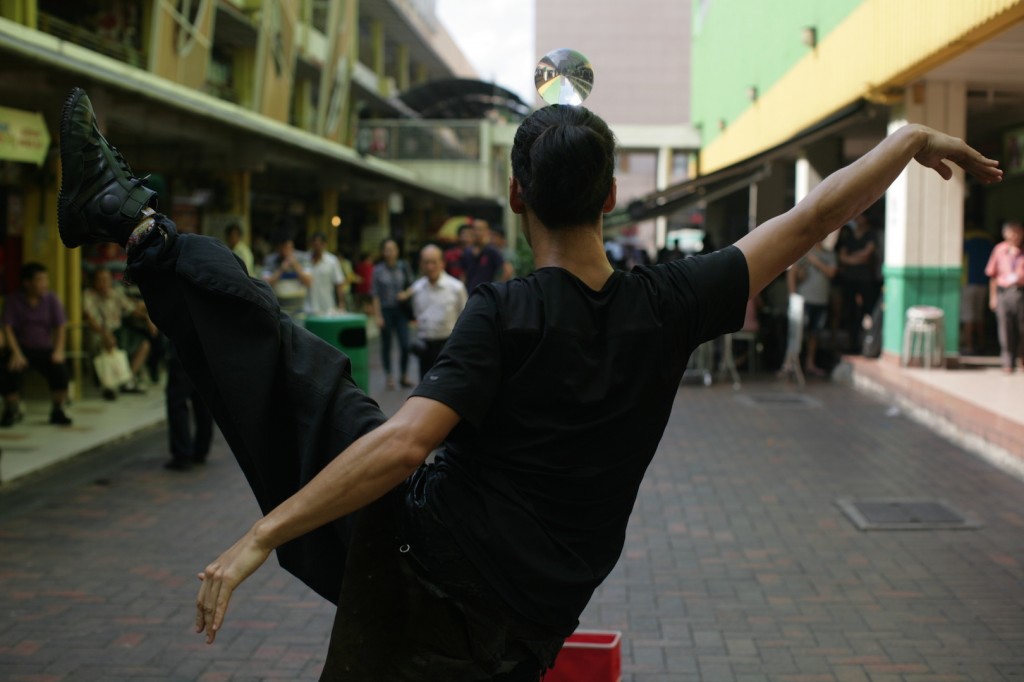 Jonasun's inspiration to take up a life of street performing began during his travels in India in 2004. There, he met fellow travellers who performed to fund their wanderlust and nomadic lifestyle. He stayed on with them learning how to juggle, and later stayed on in India to learn from other performers, fire-twirling being one of the many skills he has in his repertoire.
He has a limit of performing two two-hour sets each day if he has to, and he usually practises no more than two hours a day. Failure or success balances delicately on his calmness, dexterity and concentration, so Jonasun does yoga for mind and body control.
"I also do yoga because it helps clear the mind of any negativity I might be experiencing on my travels, something I don't want the audience to see."
"One of the best experiences I've had was in Japan in 2010. A girl came up to me after my performance and told me, 'Your performance gives me energy and it made me cry.'" Jonasun
Positivity remains the constant in Jonasun's globe-trotting career, something he feels he can help spread through his performances.
He is hoping to accumulate all his skills and his experience to one day produce a larger-than-life show that involves musicians, visual artists and collaborations with other street artists. He's hoping shows like that will bring people happiness wherever he travels and wherever he performs.
"I've had good moments, like in Australia where the people there are the most generous of any place I've been been and it's so easy for a visitor like me to get a licence for street busking.
"One of the best experiences I've had was in Japan in 2010. A girl came up to me after my performance and told me, 'Your performance gives me energy and it made me cry.'
"I perform for moments like those, to see the smile on people's faces."
After half an hour, Jonasun finds a place to set up a performance space in Chinatown. By the time he's done with his first segment, there are smiles all around, smiles that stay on for his second, third and fourth sets.
Mission accomplished for Jonasun and his infectious positivity.
– Video editing by Joyce Ng. Additional interview in Japanese by Misa Imada. Translation and subtitling courtesy of Naoko Saito.