If you have a predilection for retro Asian vinyl album art but feel it needs more "awesome" inked, traced, painted and "smashed" over its awesome, but in abstract, deconstructed ways by the oddest, wittiest and most talented artists this side of the art scene, then you might bust a nut at this latest exhibition by Kult.
The design and branding agency brought together 25 Singaporean and international artists, made them each pick out an old 12" vinyl cover from crates filled with 1970s and 1980s albums and told them to deconstruct and reimagine the shit out of the original. The result is a perfect concoction of an ode to album cover art, and, according to Chinatown Vinyl Squad curator Steve Lawler, "a homage to Asia's cultural heritage".
Stand out works include Acoustic Anarchy by SBTG, and UK artist Russell Taysom's Rampage Of Iron Death, replete with entrails and decapitated victims of the band on the cover. Then there is Singaporean artist Dawn Ang's meticulous take on a cover titled Love Song Of Twins. Her piece, titled Bái Shé Zhuàn, displays her obsessive compulsive traits with finely inked lines on paper for some intricate landscape and serpent madness in black and white.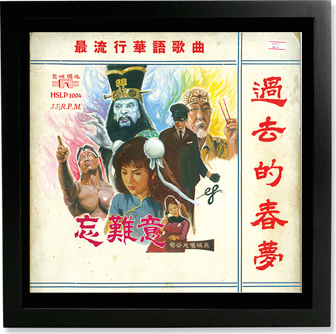 Tardiness and a stroke of last-minute genius was the order of the day for Eric Foenander's piece, titled, From '83 Til Infinity.
"I got my cover two weeks before but I really only came up with the idea to turn the cover (titled Yi Nan Wang and featuring Taiwanese actress Ai Li) into a collage of stereotypical Asian characters just a few days before the deadline," said Foenander, who worked with acrylic paint on the cover.
Foenander painted over Ai Li and morphed her into Street Fighter 2 character Chun Li, as well as adding in other memorable characters from the 80s such as Mr Miyagi and Chong Li from Kickboxer, characters that he says shaped his growing-up years.
"Bloodsport, dude, Bloodsport. Chong Li is from Bloodsport," Foenander reminded me with a wry smile.
I felt embarrassed because I knew it. A juvenile mistake in the middle of a pop-culture conversation with an artist.
"Yeah, sorry, I meant Bloodsport. So why From '83 Til Infinity?" I asked.
"You know, like the Souls Of Mischief track, From 93 'Til Infinity," he replied.
"Well, the name of the track is 93 'Til Infinity, there's no 'from' in the track's title," I said feeling vindicated, smart and chuffed.
"Oh, shit, really?"
"Yeah, don't worry, no one has to know."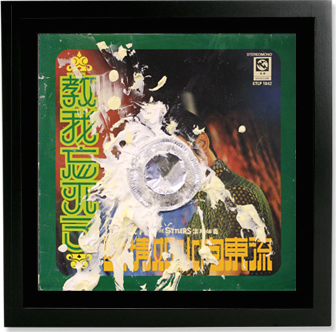 The show's literal "In-Your-Face" piece was Ken Tan's Ditto L.S., which was influenced by LA-born and New York-based Lucien Smith's pie painting works. Using modelling paste, Tan's work features a pie thrown and splattering all over the album cover.
"It's in reference to Lucien Smith, hence Ditto L.S. Art these days is fashionable and people buy ridiculous pieces of artwork for stupid amounts of money. It's not about the art anymore," said Tan.
"So I'm showing I too can do pie paintings. It's a 'fuck-you' piece, not a homage."
The piece, priced at $300, was sold out before opening day.
"I bought my own piece," added Ken.
The Chinatown Vinyl Squad exhibition, at Zui Hong Lou, located at Ann Siang Hill, ends April 29. Most of the works were sold before and during the exhibition, but there are a few more pieces left from the exhibition at the Kult shop.