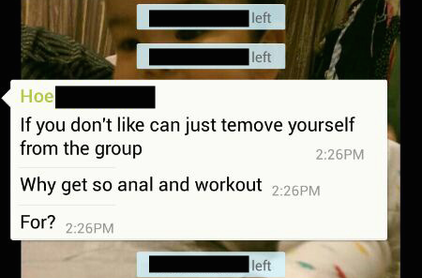 No one likes spam messages, but lest we forget, behind every spam message, there is a bot. But where there is no bot, there is a human being.
Social media site Facebook bought the WhatsApp messaging service for US$19 billion, and this guy promoting a business networking meet-up on board a yacht has shit luck with creating a group message.
There's no correlation between these two pieces of information, but for the 450 million users of WhatsApp who have the ability to create a group message, shit-luck man is a good example on why you shouldn't create a group message filled with strangers if you're a business promoting stuff.
Because people can be meanies, and meanies are mean and hurt people's feelings. So when we called him up after seeing a barrage of negative WhatsApp replies to the group – like the subtle "(sic) This is spam I don't care about your crap offer and I don't even know you," to the less subtle, "Next message I receive I'm going to report you," – he sounded genuinely hurt when we asked if he was okay.
"I'm trying to forget about it. Why everyone has to be so upset? I'm only in my 20s. There's this lady in her 40s. It's like an old hen bullying a younger guy," said Mr Hoe.
Yes, people are mean, so we asked how he knew she was in her 40s.
"I went to her Facebook page," replied Mr Hoe.
"Was she hot," we asked.
"No. Quite old," he added.
But may this also be a lesson on how not to respond to angry spam message recipients, especially by telling them,"(sic) Is not spam. Some of you are damn rude!"
Facebook, have fun with WhatsApp, 'cos we're on a boat!
WE LIKE WINE. AND WE LIKE BEER.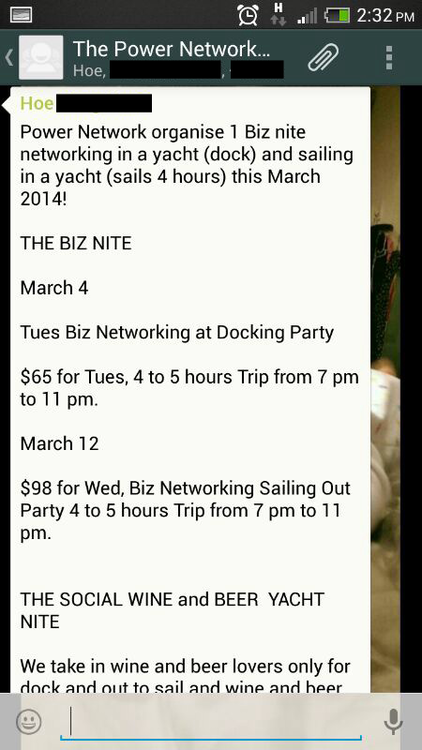 AND IT'S ALWAYS NICE WHEN SOMEONE INTRODUCES HIMSELF.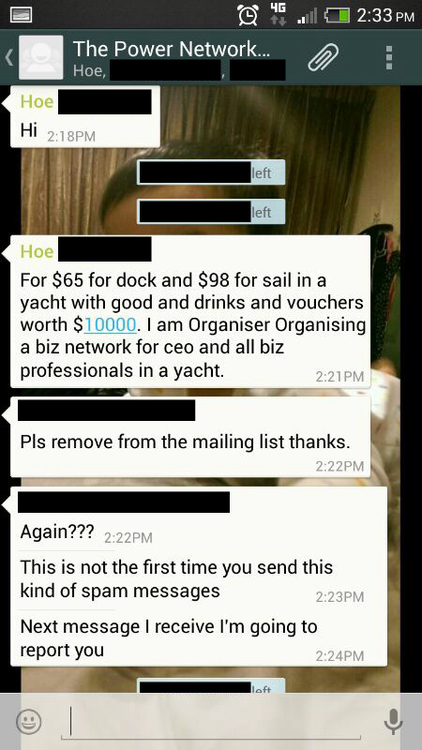 BUT WHEN PEOPLE START TO LEAVE EN MASSE AND GET ANGRY, IT'S BEST TO KEEP CALM AND NOT RESORT TO PETTY BEHAVIOUR.