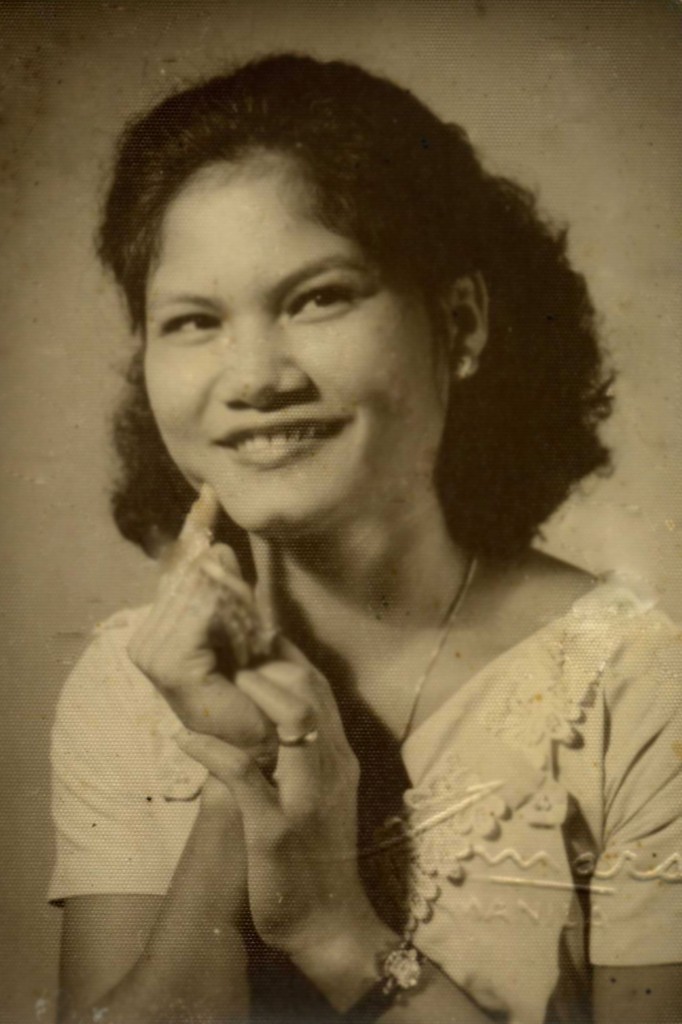 Andrea "Andring" Rosimo's face is illuminated by the glow of her mobile phone as she replies eagerly to incoming messages. She's texting her lover and smiling like an excited school girl.
And while teenage love is palpable in each carefully texted Whatsapp message as she reveals a wide, toothy smile, Miss Rosimo's school days are as far behind her as they possibly could be.
Miss Rosimo is 82 but she is thoroughly in love.
Sitting in a noisy food court in Singapore, Miss Rosimo, or Manang Andring as she is more popularly known, has been our family's helper for six decades. She's strong, smart, tough and fiercely loyal, and so it surprised many of us when she told us about her long adventure to true love. It was a secret she kept to herself, one which she was shy to admit.
She moves around with added care and tempered pace at her age, but her memory is sharp as her seasoned and steady hands wave around as she tells us her story.
"What is this for?" she asks one more time before I remind her that her story is one of finding love, losing love and having the patience to regain that love, and that is something I want to document.
She speaks in short sentences eager to get it over and done with, but as she reminisces, you see a glow in her eyes as she recalls her brief encounter with her first love.
"I was lucky to have that decent job. It kept me busy but it also brought much needed money to my family."Miss Andrea "Andring" Rosimo
Miss Rosimo recalls the time she grew up in a poor family in the northern province of Ilocos, famed for its pristine secluded beaches, Spanish colonial towns and bagnet, a deep-fried pork belly. To help her family cope with poverty, Miss Rosimo, like most girls her age at the time, had to quit school in her sophomore year to look for work.
It was 1949. The Philippines was still recovering from the war and Filipinos were just starting to get a sense of freedom.
"I went to look for work and I was hired as a store clerk in a small convenience store called New Hope in the city capital of Vigan," says Miss Rosimo, who enjoyed having a decent job managing the store at the age of 17.
"I was lucky to have that decent job. It kept me busy but it also brought much needed money to my family."
Regular customers flocked the store day in and day out, but one day, she met a young man named Mac, who was a customer at the store.
"I remember the first day Mac first visited the store. He just bought some canned goods and left," she says with a laugh.
Then he came back the following day and the next few days after that. She started seeing him more often but he rarely bought anything, which made Miss Rosimo suspicious.
He had just wanted to see Andrea every day.
But in the Philippines, Filipinas were expected to be pakipot or to play hard to get, and Miss Rosimo played by those rules. Like her fiery, strong-headed self, she played harder to get than any other girl. She would shoo Mac away in every way possible. She said she often shouted at him.
"You really don't have plans of leaving? If you don't go away now, these cans of sardines will hit your head," Miss Rosimo would warn Mac. But Mac remained persistent. He deflected Andrea's tricks with his sense of humour: "Oh Andrea, you know when those hit my head, I'll just bring them home."
The charm of his persistence wore off on Andrea.
"Yes, eventually I started to like him, too," Miss Rosimo admits. "But of course I didn't let him notice!"
She was soon back to her fiery self. It took almost a year for Miss Rosimo to give in to Mac's advances and become his "girl".
The pair dated for three years and were happy, but Miss Rosimo had to move to Manila to give her family a more comfortable life. At 21, she transferred cities to earn more.
"We agreed to be in a long distance relationship. I went back home twice a year and sometimes, we would write each other letters," says Miss Rosimo with a faint smile.
Acquaintances led Miss Rosimo to the household of Marcos Cruz, a town councilor and lawyer. His pregnant wife, Edmee Cruz, needed Miss Rosimo to help manage their home and take care of their soon to be first child.
It was a full-time job.
"I've always been independent so I was fine with the distance. He was the clingy one," she says giggling.
Then, without any prompting and taking us completely by surprise, she says: "One day he asked me to marry him.
"I said yes. But I told him to wait because I needed to go back to Manila to finish my job. I told him to wait for five more months. And he agreed."
Five months on and Miss Rosimo received some very odd and startling news.
"It was coming to the end of our five-month wait to be with each other again and I was supposed to go back to Vigan when I received a phone call," Miss Rosimo says casually.
"A friend told me Mac got married."
It was a shotgun marriage. A notorious family in Vigan known for their tarnished ways asked Mac to marry their sister who got pregnant with another man who fled. They had threatened Mac's life.
Mac had no choice and did it to stay alive for his Andrea.
"It was up to him. But I didn't go crazy. I had my job and I focused on it," says Miss Rosimo indifferently.
Mac might have saved his own life, but Miss Rosimo made him non-existent in her memories and flushed him out form her heart.
Over the next 60 years, Miss Rosimo was able to travel within the Philippines and even had the money to renovate and expand her family home in Ilocos. She even bought a new house and lot in Manila after all her hardwork and remaining single.
Then in 2012, Miss Rosimo went on her annual trip to Ilocos to visit her relatives in St. Lucia.
"Our family home was in St. Lucia. But all my friends are in Vigan. So in 2012 I also went there to meet up with my amigos," she says.
"I made a detour to the old store where I worked at as a teenager. I wanted to visit a friend. When I got there, they were so anxious to tell me that someone was looking for me.
"After a few minutes, a young guy comes into the store. I somehow instinctively had a feeling he was Mac's son."
For years, Mac had asked his son to help him look for Miss Rosimo.
"The son asked for my number and asked me to meet him the next day. The next thing I know, I was standing in front of Mac again, exactly where we first met 60 years ago."
As though the name of the store was hinting something, Andrea and Mac started talking again.
When I asked Miss Rosimo how their conversation went, she replied in her usual, indifferent and succinct manner.
"Nothing. He just asked me how I was."
Suddenly, recollecting her memories, Miss Rosimo begins to smile.
"I told him I was okay. He thought I was going to ask him the same thing. But instead I asked him why he did that to me."
And that question gave Mac a chance to utter words he's been waiting to tell Miss Rosimo for decades: "It's still you. It was never not you. There wasn't a day that I didn't think of you."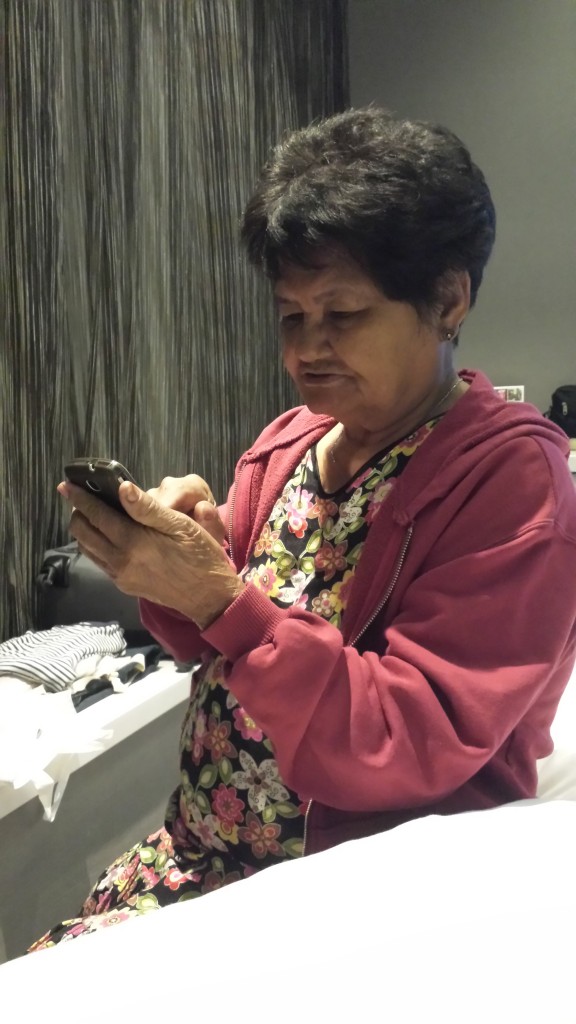 Ever since that second-chance meeting in "New Hope", Miss Rosimo and Mac have stayed in touch. They've gone all tech now, sending each other SMSes and chatting over their mobile phones.
But in many ways, Andrea and Mac remained as their old-fashioned selves. Mac may still be married and his love with Miss Rosimo may have never blossomed, but their friendship remains after 60 years.
Mac still "flirts" with Andrea by sending her fruits and vegetables from his garden every month. And of course, Andrea still plays hard to get.
Miss Rosimo's story is a story of chances, loyalty and serendipity, and one which I am glad I got to document. Her love story is testament that in today's increasingly connected world of instant gratification, speed dating and ephemeral relationships, true love is as much a test of patience and loyalty as it is laborious.