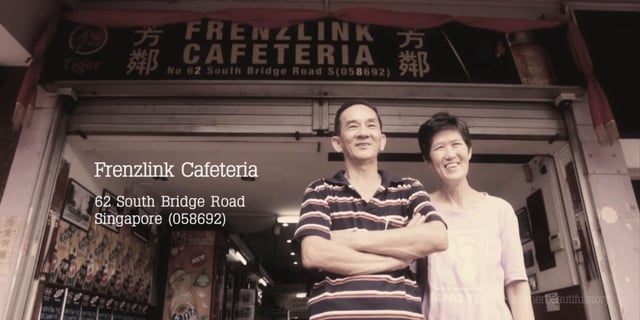 Discovering people who follow their passions always tug at our heartstrings. Uncle Ah Cai is one such remarkable individual, whose love for noodle-making remains strong even after two decades.
In a video by Another Beautiful Story, Uncle Ah Cai opens up about his thoughts and daily routine from opening to closing.
Waking up at 3 a.m. daily, he gets ready and heads to his coffeeshop in South Bridge Road, Singapore, beginning preparations around 4 a.m. He takes a good two hours painstakingly preparing the noodles and ingredients for a variety of local dishes.
Tables and chairs are then laid out, awaiting the breakfast crowd to stream in.
"Personally I love cooking noodles, because cooking noodles is like an art form and I love it."Uncle Ah Cai
He tells Another Beautiful Story his love for noodles began while helping out at a noodle stall during the school holidays many years ago. His unwavering bond with noodles has carried onto his personal dietary life as well. "I also eat noodles for breakfast and lunch here everyday, I'll eat nothing else," he says.
Boasting a range of eight different types of noodles dishes, he says this gives patrons variety so they won't get tired of eating the same noodles each visit.
Even at such a ripe old age, he still manages to remember multiple orders at a time – even particularly complicated ones – to which he has earned praise from customers.
"As long as the patrons like the food we prepare and there are no complaints, that's good enough for me," he says as he recalls many complaints he'd receive in the past.
Through the years and spread by word of mouth, his coffee shop grew in popularity, earning the moniker: The $2 Kopitiam. And yes, he's maintained his noodles at a steady $2 in spite of inflating costs.
"I will definitely earn lesser by selling my noodles at $2 per bowl, but it's okay. Whatever I've earned, I'll just treat it as my salary. I'll take each day as it goes, as long as everyone is happy."Uncle Ah Cai
Having a number of things to do at the stall always keep him busy and little time for rest, but Uncle Ah Cai says he always remains positive coming to work, constantly keeping his mind fixed on feeding his patrons.
And each day – as it has been for the past 22 years – repeats itself.
Watch "The $2 Kopitiam" by Another Beautiful Story here:
Video sourced and text referenced from Another Beautiful Story.