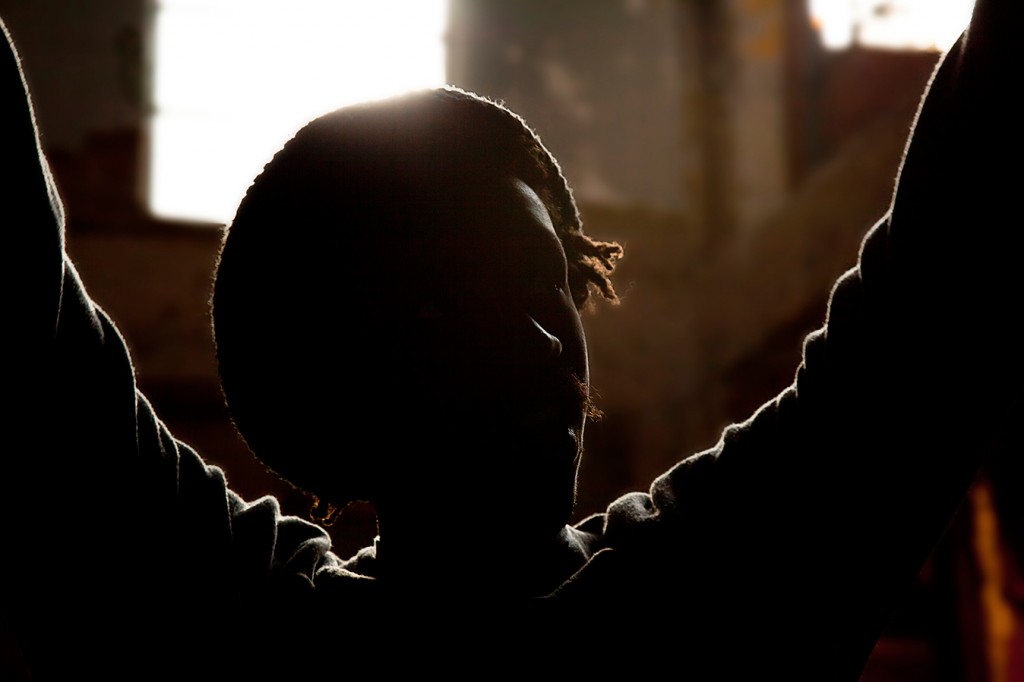 In our ongoing feature of artist portraits by Melbourne-based photographer Renée Stamatis, one thing has remained constant when framing her subjects – she just rolls with what she has to work with, from odd locales to poor lighting and tight artist schedules.
Be it in the studio, on location or photographing candidly, Stamatis' down-to-earth attitude makes her relatable to any musician she's shooting, and her ability to hold conversations with her subjects are the undeniable ice-breaker to make everyone around her feel at ease and not feel that the session is a chore.
Flying Lotus
Floating Points
Onra
Alexander Nut
It's not something most photographers are good at, and that ability of hers comes in handy in awkward situations while shooting, be it awkwardly walking in to backstage sexcapades involving venue staff while photographing Samiyam during his concert, or getting Brainfeeder's very humble beat-maker, Mtendere Mandowa, otherwise known as Teebs, to a location and having a technical failure in the middle of his packed schedule.
Yet, mistakes are a blessing, and having to do things by the book, well, we doubt Stamatis bothered to read that boring tome.
What was going on in this very moment between you and Mtendere?
I had found the location I wanted to shoot him in, set up my flash gear, got him in the frame and was just firing away.
Something wasn't quite working, it just wasn't what I envisioned the shot to look like, and I was struggling a little.
We were on limited time and I didn't want to drag him around to other locations in the hope of "maybe" getting the shot, so I just tweaked the lights, moved them a little, got up higher to change my perspective and then, bang! The flash didn't fire.
I was shooting too fast, dammit!
I shot a few more frames and then called it a day. I figured if I couldn't work with something I had in that time, well, then maybe it just wasn't meant to be.
What was he doing there?
The Operatives had brought him out for Melbourne Music Week in 2012, and he was playing at WareHouse which was an amazing derelict 1920's building transformed into a venue for the week, after having been abandoned and closed off to the public for as long as I can remember!
Was this before or after his concert?
This was before the gig. We went in for a site visit and set up, to show the artists the space before they would see it come to life once night fell and doors opened.
What did you guys talk about?
We spoke about his lovely girlfriend, his artwork and working process. And we spoke about grief and the loss of recent loved ones, and, of course, food.
Was the barrier easy to break down with your subject?
Totally. This is a super sweet, down-to-earth man. And his love for xiao long bao is definitely something that brought us all closer. I thank Jerry (her boyfriend) for the Hu Tong dinners!
Why this photo out of all the rest?
This is the one frame where my flash didn't fire, and it was the one I loved most!
That beautiful glowing edge and the tiniest bit of detail on his face – perfect! I didn't need to show all of him to know who it was; the little bit of hair and moustache was just enough to reveal Teebs.
It was a reminder for me that sometimes mistakes are a blessing, and not everything needs to be done by the book.
Teebs plays Howler tonight in Melbourne. Check The Operatives' website for more event details. We're writing this from Singapore and can't be there, but at least we got to see Teebs in Singapore in June.