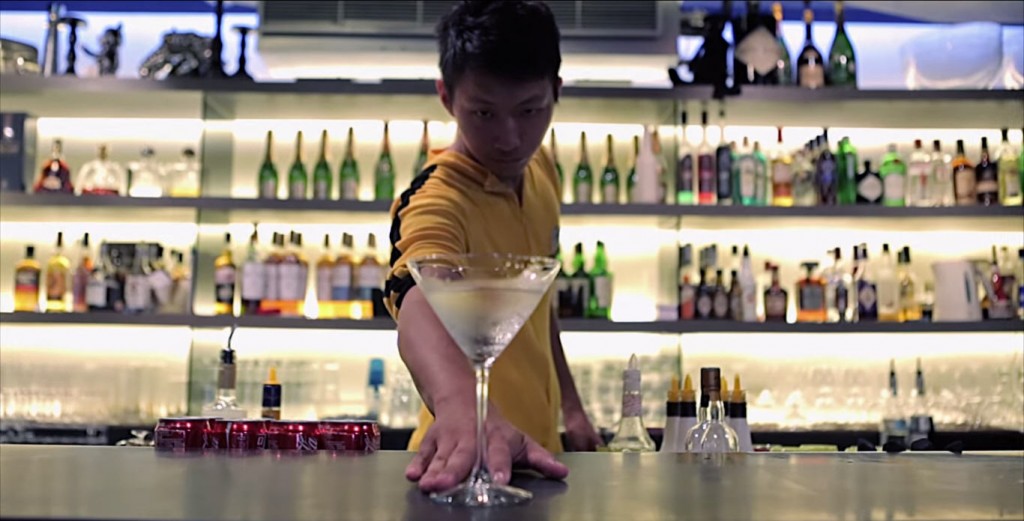 Bespoke cocktail bars are all the rage in increasingly affluent Asia. Everyone wants to meet at a speak easy ordering drinks they can't pronounce. Still, where's the fun without trying and learning something new while getting massively shitfaced?
Still, at these fancy places, if we'd have to blow S$25 (US$20) on a drink we'll gulp down in five seconds amid small talk that we'll get bored of in five minutes, then it doesn't really make financial or emotional sense to dig these sort of bars. All this unnecessary and rude juggling of our drink orders is a little time wasting and over-the-top. Just get us our drink.
Buuuuuuut, if the bartender is going to dance around for us and act like Bruce Lee, perhaps $25 for a drink ain't too bad. Money's no object!
Taiwan's Kuma Films, whose films have a knack of turning the most nerd-like of everyday activities, like pen twirling and fingerboarding, into exciting works of film art, have made a short demonstration video that combines Bruce Lee fandom and alcohol.
Perfect, then, that the production company teamed up with award-winning Taiwanese flair mixologist Hsu Po Sheng at Taipei's Chess Club to film him combining Bruce Lee kung fu moves with his talent of drink mixing and throwing bottles in the air like he just don't care.
The bartender, who has performed other choreographed mixing techniques, replaces nunchuks with Malibu, though we're not sure which of the two are deadlier.
Taking "shaken, not stirred" to deathly OTT levels, enjoy the video of Po Sheng ripping up your order of diet coke with lemon with martial arts moves and unnecessary juggling surfeit to the role of a bartender. Just get us our drinks!