If the chances in life had been any different, Vince Low would be selling noodles for a living.
Not that selling mee pok or kolo mee would be a bad thing, but if not for a series of fortunate circumstances that led him to confront a personal disability that in turn led him on a journey of artistic self-discovery, I wouldn't be sitting next to a man whose art-form has become a worldwide sensation and whose works have been featured on Huffington Post and UK's The Daily Mail.
Low's art has spread awareness about dyslexia, a condition Low found out he suffered from while working on his first dyslexia awareness campaign, and which has led the Malaysian artist to discover a new skill by taking everyday doodling to an art form.
"After my Form 5, I never thought I could work in an office. I thought maybe I should be selling noodles in a hawker stall. I didn't have confidence for anything at all," said Low, explaining his teenage years, which were haunted by learning difficulties which he didn't have an explanation for.
"Going to school was hell. I had such low confidence and I gave up trying to communicate to people. I always had to work twice as hard as everyone else to understand things," he lamented as he spoke briskly and erratically, a myriad thoughts likely rushing to his head each time he paused on a question, but all the while enthusiastic to talk about his art and a cause as he smiles.
He was in Singapore to launch his first major exhibition held at and presented by The Connoisseur Concerto and hosted and promoted by art-management.com. He displayed 25 pieces of art for sale, along with digital prints of celebrities and their quotes to complement each piece. But the journey to his first exhibition was one filled with hard work and self-discovery.
Six years ago, when he was hired by a multi-national advertising firm as an illustrator, Low found out just what was making concentrating and reading words, as well as verbalising his thoughts, such a pain for him. A dash of fate or a stroke of coincidence, Low was asked to art direct an awareness campaign on dyslexia.
"So I came up with my own special drawing to prove myself to parents around Malaysia that I, as a dyslexic person, can come up with something original."Vince Low
"I had no idea what dyslexia was at first when we did our work for Malaysia's dyslexia association," Low explained.
"So I asked my creative director what dyslexia was, and he showed me a video on how dyslexics see words move on a page or see alphabets blink while they read.
"And so I asked him, 'Isn't this normal? Doesn't everyone see words like that?'
"He and my other colleagues just stared at me and said 'no'. And that's when I found out that, oh, man, I might be dyslexic too," said Low, laughing, his youthful exuberance beaming.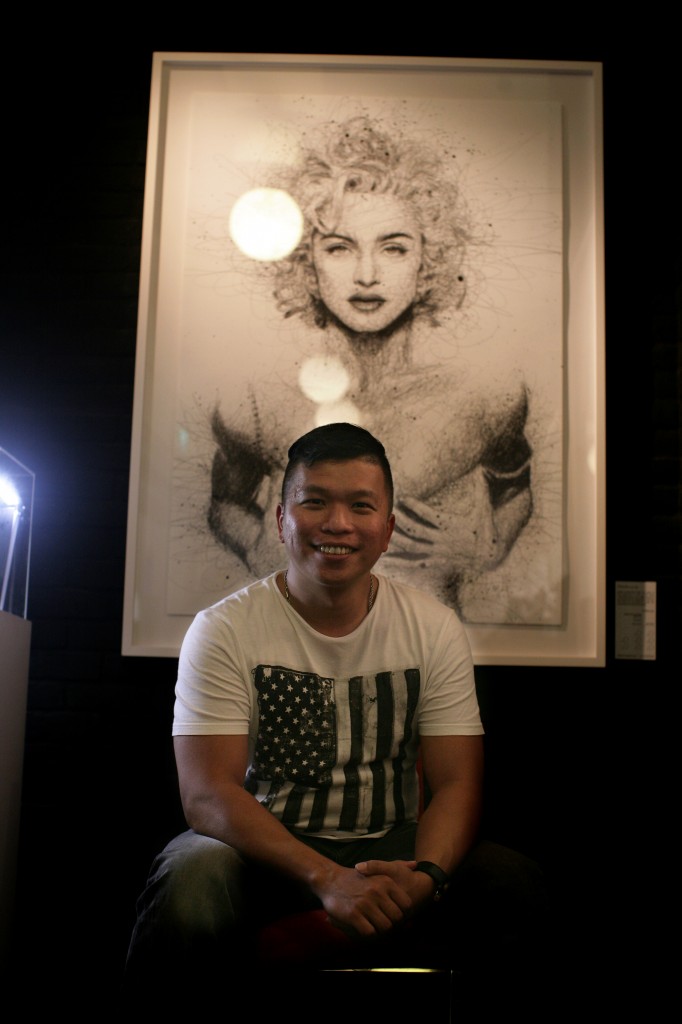 But three years ago, while working on a second campaign to reinforce the point to Malaysian parents that dyslexia in all its forms isn't a disability, Low was asked to flex his illustrative skills by his creative director. Armed with a sense of empathy for the campaign being a sufferer himself, Low was tasked to simply draw prominent celebrities who suffer from some form of dyslexia. Like most dyslexics whose thoughts traverse a non-linear scale, Low conceptualised his ideas not as written words on a piece of paper but rather, by doodling them out.
"I thought, hey, I am dyslexic and yet I can draw anything people want, so why not I say these pictures are drawn by me – a person who suffers from dyslexia," said Low who said sometimes, he finds drawing and scribbling the best way to communicate his thoughts.
"So I came up with my own special drawing to prove myself to parents around Malaysia that I, as a dyslexic person, can come up with something original."
The campaign set Low off on a road to fame and a new artistic style.
"Dyslexia associations around the world wanted to syndicate the campaign for their markets," Low said proudly, but also admitted that he found it difficult balancing agency work and his new-found practice.
"I almost wanted to give it up to concentrate on my job, a job which means a lot to me. But when I saw just what the drawings meant to people and the awareness it created, I just kept on going."
Low can sometimes spend 12 to 15 hours on a piece, using a light pencil to rough out the base, and two 0.4 pens and two 0.6 pens for the lines and scribbles. But has he ever made a mistake on the final stroke of a 15-hour masterpiece?
"The secret? Liquid paper," he said laughing as he gave me a high five. "That fixes everything."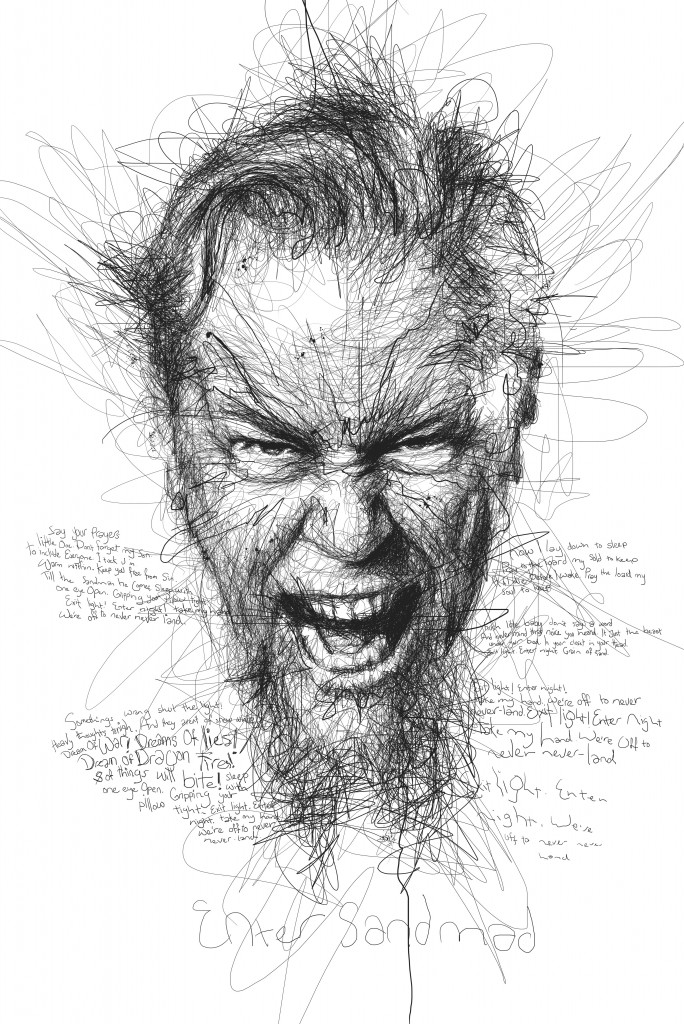 I then pointed out my favourite piece, a scribble of Metallica's frontman, James Hetfield. I asked if the hardest part for Low would be the words.
"Yes, yes," he exclaimed in surprise. "How did you know?"
So I pointed out the error of the quote in the Hetfield artwork.
"It says Enter Sandmad. It should be Enter Sandman," I said casually without offending Low.
Covering his mouth with his hand, Low muffled an "oh no, oh no", but I told him that it was what made the Hetfield piece all the more beautiful. It was real, like Low's dedication to his art and belief in a cause.
"I think the important thing for people, not just people with dyslexia, is to find something they love to do. To have no fear. To not be let down if they make a mistake," said Low as he thanked me for liking the piece.
"You have to explore everything."
Low is currently looking to take his scribble art to new levels, though he has yet to conceptualise it in his head, but he says the world can look out for more colour to his doodles, something as tantalising to look out for as a good bowl of noodles.
Vince Low's work, curated by art-management.com, can be viewed at The Connoisseur Concerto's 'The Gallery', 51 Circular Road, till June 2.