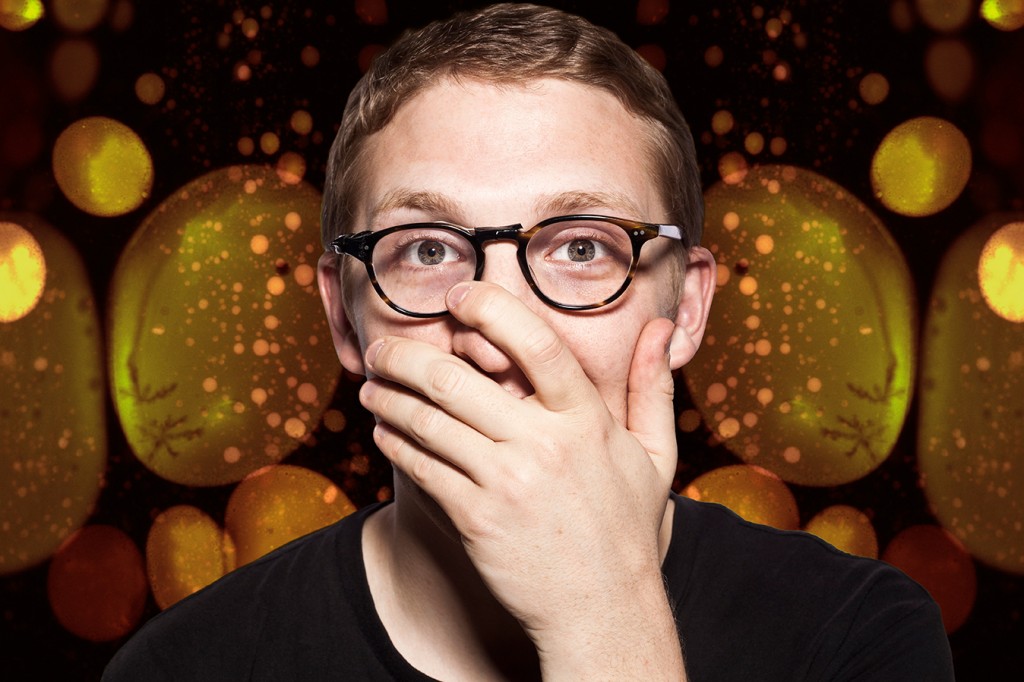 Before you start reading about photographer Renée Stamatis' work in the next series of our feature on her artists portraits, play the track below, released last year, to accompany this article as you bop your head through an ethereal jazz landscape.
Is it playing? Lovely.
The music you're listening to is by Sam Shepherd. One-part DJ, one-part producer, one-part composer and one-part neuroscientist.
For any photographer tasked with photographing such a diversely creative artist, it can be intimidating and somewhat complex trying to conceptualise a shot that describes or accentuates the artist's personality.
Which is why we like Stamatis' photos – the Australian photographer not only has a knack for taking crisp shots of some of electronic and live music's biggest artists, she is able to put them at ease amid their busy touring schedule and, all the while, create a narrative behind each and everyone of her shots.
Flying Lotus
Onra
Samiyam
After an intense gig in an abandoned Melbourne warehouse, Stamatis did her research on Shepherd, and, like all her shoots, wanted something more than just the artist; she wanted something that revealed a personal side, as she did with the likes of Onra, Flying Lotus and others in her portfolio.
The result? A humorous picture that accentuates Shepherd's humility and genius, set against a backdrop of microscopic images from his work in the lab as a PhD student in pain genetics.
What was going on in this very moment between you and Sam?
We had been laughing at how a little wire and electrical tape had given his broken specs a new chance at life. (He loved those glasses and had broken them in New Zealand just before he arrived in Melbourne.) Now they were as good as new… well, almost.
We were both laughing pretty hard and talking about the parts of ourselves we didn't like in photos – we have the same little crooked teeth, I call them shark's teeth, and here is Sam hiding his.
"I work equally as much with organic images as I do with collages, creating something in post, and I knew from the beginning that I wanted this portrait to reveal his other genius, as well as his famed music career."Renèe Stamatis
What was he doing in Australia?
The Operatives had brought him out for Melbourne Music Week in November of 2012. It was an incredible show in an abandoned city warehouse totally brought to life for the week.
Was this before or after his concert?
This was a few days after the show at my house. Sam had been hanging out in Melbourne and this particular afternoon we'd been out for a delicious lunch, spent some time at the beach, then back to mine where he was practising his set with Fatima for their upcoming show. I had set up my flash gear, camera and a white backdrop in my living room, and took a series of portraits with the intention to play around in post to create something that was relevant and personal to him.
I work equally as much with organic images as I do with collages, creating something in post, and I knew from the beginning that I wanted this portrait to reveal his other genius, as well as his famed music career (rarely do you meet someone who has completely mastered two extreme opposite occupations). I wanted it to encapsulate Sam Shepherd the man, rather than Floating Points the producer/DJ/one-part Eglo Records owner.
What did you guys talk about?
I could listen to Sam talk for days!
We spoke about his PhD studies in pain genetics, where he explained in simple terms, his research done with people in various parts of the world of different social classes who do not possess the gene that allows them to feel pain.
It was quite fascinating learning how education, environment and wealth greatly affects the lifestyle and appearance of people with an absence of the pain gene. In poorer countries, often the people suffer injuries and deformities from the repetition of pain-inducing situations. They never learn that boiling water is the cause for their blistered lips and tongues, whereas in wealthier countries, the people have adapted and implement tools in their daily lives so as to avoid the injuries (e.g. coffee cups that change colour when boiling water has cooled enough to be drinkable, lessening the instance of burning and blistering in their mouths and so one. Fascinating!).
Was the barrier easy to break down with your subject?
Extremely easy! He really is such a nice normal person. From the minute we met, conversation was flowing.
Why this photo out of all the rest?
I had been speaking with Sam over email, explaining that I wanted to create a background for his portrait that referred back to his PhD studies.
He had sent through a few microscopic images from his work in the lab and this is a high-resolution microscope picture of a wax pen that he uses to mark glass slides. It forms these blobs in the process and it looked quite different to how it does in my photograph. I did a whole lot of layering and tweaking til I was happy with its appearance.
So, this picture because it condenses his intellectual side, his humour, and the fact that despite being considered god-like to many a fan, he is human, like the rest of us, with quirky little imperfections that we see in ourselves more so than anyone on the outside.